OK. This post actually should have being called something like "The frigging chameleon". Or "The worst photographing polish ever".

For the first day of school (yay! I had helluva fun during the spring break - think tax documents assembling and a school project) I decided to go with something really, really springy. Elizabeth Arden, Michigan Avenue Red.

This name is very deceptive, actually. It's not "red" red. It's a very tricky color - pinkish red or reddish pink (you decide). For some reason, Michigan Ave Red obviously has some self-esteem issues; I do not have any other explanation for its obvious camera hate. I took more than hundred (!) of pictures and none of them has came out exactly right; or even close to right color.

Let's see:

This extra blurry pic happens to represent color somewhat accurately. Mmm... I think it's more pinkish red that reddish pink. What do you think?

Under certain light it does look like a classic red, rather loud one:

Yep, this is the same polish.

What I do not like about this Arden (in addition to its photo issues, of course) - it's a jelly. Semi-opaque color; looks very much like a jam on your morning toast - even thou it's definitely colored, you can still see the toast under the layer of jam.. I do not like to see my nails through polish, even thou I admit the jelly effect can be pretty.

And, at the end, two close-ups. Thus little stubborn dude deserves them.

Thanks to the Cackling Polish Dwarf I love to blame on polish disappearances, this color is discontinued, along with the whole line of Arden polishes. The closest dupe I can think of is OPI Dutch Tulips. It is from the same pinkish-red family. I'm not sure about the photography issues; let me know if you have Dutch Tulips - I'm really curious if it runs in a family.

I also have an incredible spring pedicure - Misa Tender Pink. For obvious reasons I do not post pedi pics, but I will throw in an old mani picture.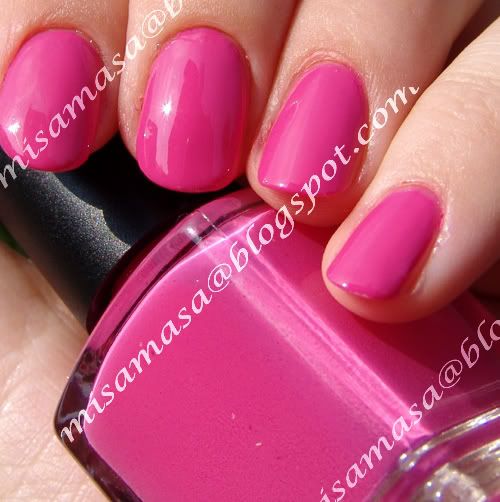 I hope y'all having a nice spring!